Tla'amin ballet star brings cultural stories to the stage

Cameron Fraser-Monroe of Tla'amin First Nation, the artist-in-residence at Ballet Kelowna for the 2022-23 season, strikes a pose at the Ballet Kelowna studio in syilx homelands on Nov. 30. Photo by Aaron Hemens
A Tla'amin ballet performer who has taken on an artist residency in syilx homelands is seizing the opportunity as a way to express and share the beauty of his culture through dance.
Earlier this year, Cameron Fraser-Monroe became the first artist-in-residence in Ballet Kelowna's 20-year-history.
Since being announced to the role in August, the 24-year-old has been working on crafting several performances grounded in Tla'amin Nation's history, protocols and stories.
Fraser-Monroe said he's made it a personal mission to respectfully incorporate the teachings and values of his community into his work.
"It's not something I've been assigned to do, but something as an artist that I want to do," he said.
"Everytime I'm creating, I'm trying to lift up everyone I can with me."
Weaving dance styles together
Growing up in "Vernon" in syilx homelands, Fraser-Monroe — who is also of Ukrainian and Scottish descent — first learned Ukrainian dance at the age of three, before picking up grass dance and hoop dance shortly after.
He studied grass dance with Okanagan Indian Band (OKIB) Elder Mollie Bono, and he trained and performed hoop dance with three-time world champion hoop dancer Dallas Arcand of Alexander (Kipohtakaw) Plains Cree Nation.
By the time he was 15-years-old, Fraser-Monroe auditioned and joined the Royal Winnipeg Ballet School, spending five years training there before launching into a career in ballet. It was the form, structure and consistency of the art that attracted Fraser-Monroe to pursue a career as a professional ballet dancer.
"On a personal level, ballet really pushes me physically and mentally to focus and get better," he said.
Since then, Fraser-Monroe has gone on to perform across the continent with various dance companies, including the Atlantic Ballet Theatre of Canada and Dancers of Damelahamid. He's also choreographed work for the Artists Climate Collective, and was recently the artistic director of the Winnipeg Summer Dance Collective.
At Ballet Kelowna, while the role does include dancing, the bulk of his work as artist-in-residence is creating. This consists of selecting stories, themes, music, developing and choreographing movement, and then rehearsing it with other dancers.
At the heart of his work is blending his knowledge of First Nations dance, contemporary dance and ballet all together into one style.
Cameron Fraser-Monroe of Tla'amin First Nation, the artist-in-residence at Ballet Kelowna for the 2022-23 season, pictured at the Ballet Kelowna studio in syilx homelands on Nov. 30. Photo by Aaron Hemens
In the process, he's made sure to collaborate with other Indigenous creatives — including utilizing music from composer Jeremy Dutcher of Tobique First Nation, and making it a priority to work with Indigenous lighting designers, set designers and costume designers.
Fraser-Monroe also enlisted Ballet Kelowna's McKeely Borger of the Métis Nation of Saskatchewan to fill the lead role of p̓oho (raven) in his production titled taqəš (to return), which had its live premiere this past November.
An oral history brought to life
Based off of Tla'amin Nation's "Raven Returns the Water" story, Fraser-Monroe said that it was important to not only share that story in taqəš, but to share its teachings and the ʔayʔaǰuθəm (Ayajuthem) language with a broader audience.
"The first time I saw taqəš on stage, I was shaking," he said. "It's so amazing to see something that might only have been known through oral history, now to see it transformed and presented on a stage."
In order to work respectfully and with integrity in sharing the stories and teachings of his community, Fraser-Monroe said that he goes through a process of self examination and cultural reflection.
"It's about walking that line to be able to present the work that's going to benefit the community, the culture, and to not appropriate it or be disrespectful," he said.
His next project, ʔɛmaxʷiygə (until we meet again), is scheduled to premiere in February. He said that project examines how Tla'amin Nation deals with the passing of a loved one, noting that the community doesn't have a word for "goodbye."
"It's about optimism and interconnectedness, and how important it is that we recognize that we're all connected. We're all going to see each other again," he said.
His third and final project, which is currently in development and untitled at the moment, "flips the script" on the notion of "cowboys and Indians," as well as examining aspects of the Indian Act.
"Just seeing what happens when you flip the script on those, and how the cowboys react to some of their systems imposed on them," he said.
He noted that he's not trying to be an educational expert through his work, and just wants to share his worldview and what he's been taught.
"Like all artists, I bring that to my work," he said. "I think it's incumbent upon, particularly IBPOC artists or creatives, to share your culture, to educate the people you're working with."
Finding a unique voice
Ballet Kelowna offers three different viewing programs throughout their seasonal tour, which began in August 2022 and end in June 2023. Across the three programs, each features one of Fraser-Monroe's three projects. The group has already toured northern "Ontario" and will conclude with a long tour of "Newfoundland" at the end of May.
While recognizing that the artist in residence role can be stressful at times, he described it as a rewarding learning experience.
"It's been a big part of me finding my voice. In ballet school, you had to be complacent, listening and absorbing," he said.
"So it's been interesting to be able to pull that together and recognize who I am, what I have to say and have the confidence to say it."
The post Tla'amin ballet star brings cultural stories to the stage appeared first on IndigiNews.
After Centuries Of Stealing Land, The U.S. Govt Is Actually Inviting Tribes To Help Manage It
Biden is laying the groundwork for a seismic shift in public land management ― one that treats tribes as partners instead of an afterthought.

By Jennifer Bendery
Feb 20, 2023, 05:30 AM EST
Last April, in a farm field in eastern Virginia, Ann Richardson gathered with a few hundred people for a celebration. It wasn't a party, though. Several people were crying. Interior Secretary Deb Haaland was there. She was crying, too.
"I can't really describe it," Richardson said of that day's event, which took place along the shores of the Rappahannock River. "Incredible. Surreal. Emotional."
"I felt like we were surrounded by ancestors who had lived there thousands of years ago. We were standing in their hopes and their dreams for their people."
Richardson is the chief of the Rappahannock Tribe, and on that Friday afternoon, her tribe took back more than 460 acres of ancestral land along the river that shares her tribe's name. Last month, her tribe reclaimed another 960 acres of its homeland, too.
It took 350 years. It took survival, after her tribe was forced off of its homeland by English settlers in the 1600s, virtually
erased by white supremacists
in the 1900s and endured centuries of persecution sanctioned by the U.S. government.
It also took a new kind of partnership with the U.S. Fish and Wildlife Service, as the Biden administration forges ahead with what it hopes will spur a seismic shift in the way the government approaches managing public lands: inviting tribes to be co-stewards of the land their ancestors were forcibly or illegally removed from by the government.
Since President Joe Biden took office, Haaland and Agriculture Secretary Tom Vilsack have signed off on nearly two dozen co-stewardship agreements with tribes. There are another 60 co-stewardship agreements in various stages of review involving 45 tribes. Haaland and Vilsack launched this effort in November 2021 with a joint secretarial order directing relevant agencies to make sure their decisions on public lands fulfilled trust obligations with tribes. In November 2022, the Commerce Department signed onto their order as well.
The Fish and Wildlife Service, the National Park Service and the Bureau of Land Management have since produced a co-stewardship guidance document, too.
To make sure their mandate trickled down to the practical, day-to-day activities of their tens of thousands of federal employees, Haaland's and Vilsack's order specifically requires that co-stewardship efforts be discussed in individual employee performance reviews.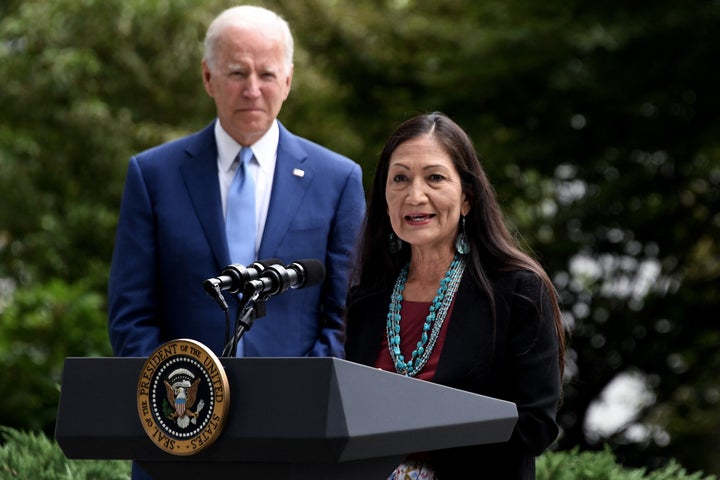 President Joe Biden listens to Interior Secretary Deb Haaland speak before signing a proclamation restoring protections to Bears Ears that were stripped by the Trump administration.
OLIVIER DOULIERY VIA GETTY IMAGES
Why is this a BFD? For starters, it likely means the U.S. government's management of millions of acres of pristine public lands and natural resources will be better with tribal voices engaged. They have extensive and traditional knowledge of how to sustainably care for their land, and that, in turn, can play into efforts to mitigate climate change.
"The history of federal public lands cannot be separated from the history of tribes," said Monte Mills, a law professor and director of the Native American Law Center at the Washington University School of Law. He wrote a 2020 white paper on tribal co-management possibilities.
"So one core starting point for redefining this relationship is the historic and continuing connections tribes have with these landscapes," said Mills. "To have tribal folks weighing in on decisions on how lands should be managed benefits landscapes and benefits all of us."
On a deeper level, tribal co-stewardships are simply a matter of justice.
Since the country's founding, the U.S. government's relationship with tribes and land has been almost entirely defined by an infuriating series of broken treaties, dispossessions and exploitation of mineral-rich lands. Beyond that, the government has almost completely erased tribes from laws that govern how public lands are managed.
"The National Park Service, in its organizing act enacted in 1960, really set up this paradigm of park management that treated parks as if nobody had ever been there," Mills said.
"At its core," he said, "this is about justice and restoring the rightful, in my view, place of tribal voices and their connection to these landscapes."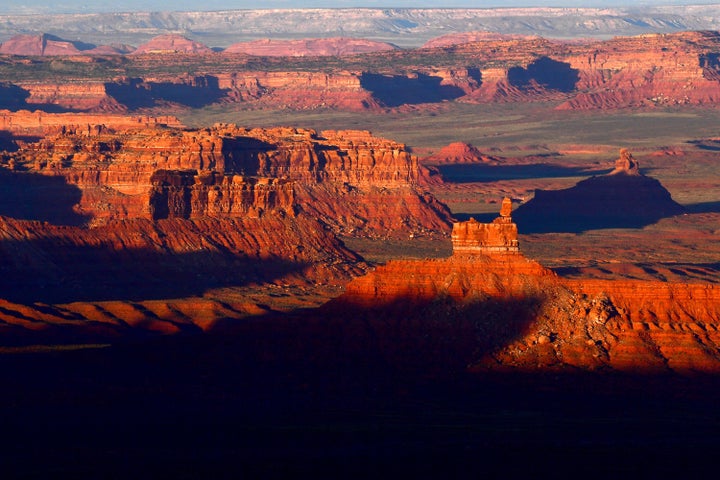 The sun sets over Valley of the Gods in Bears Ears National Monument. So pretty.
THE WASHINGTON POST VIA GETTY IMAGES
Each of these land-sharing agreements is unique, and depends on the way that tribes want to engage. There are distinctions between co-management, where tribes share legal authority with the federal government to make decisions affecting the land or the species on it, and co-stewardship, where they collaborate on activities like forest-thinning.
Co-stewardship is also one of a number of options tribes can pursue to have more say in how the public land around them is used. Some tribes may be more interested in improving their consultation with state and federal governments. Others may be focused on reclaiming their ancestral lands entirely, which taps into the broader Land Back movement to put Indigenous land back in Indigenous hands.
"Co-stewardship is a pathway to land back, a pathway to justice, absolutely," said Nick Tilsen, the president and CEO of NDN Collective, an Indigenous-led activist organization in the frontlines of the Land Back movement.
While he praised the Biden administration's "historic" efforts on co-stewardship, he emphasized it's not the same thing as returning land to tribes that was illegally taken from them. Giving land back is the only way the U.S. government can truly restore justice for tribes, he said, and it's an issue likely to get congressional attention in the near future.
Co-stewardships remain "a step in the right direction," Tilsen said. "The more we can manage land, it increases the likelihood we get it back."
The co-stewardship agreement with the Rappahannock Tribe, for example, involved land being given back to the tribe. It also took a network of Virginia-based partners. The Chesapeake Conservancy bought it with help from a private donor, connected by musician Dave Matthews and The Wilderness Society. This donor wanted to protect the land to honor her late husband, who loved water birds. The Chesapeake Conservancy provided a permanent easement to the U.S. Fish and Wildlife Service and donated the land title to the tribe, which placed it in trust with the U.S. Bureau of Indian Affairs.
An agreement with the Nez Perce Tribe in Idaho, meanwhile, involved the Interior Department transferring all fish production at a national fish hatchery to the tribe. Then there's the memorandum of understanding between the U.S. Fish and Wildlife Service and three tribes who share Lenape ancestry, which clears the path for tribal members to rebury ancestral remains on federal land in Cherry Valley National Wildlife Refuge in Pennsylvania.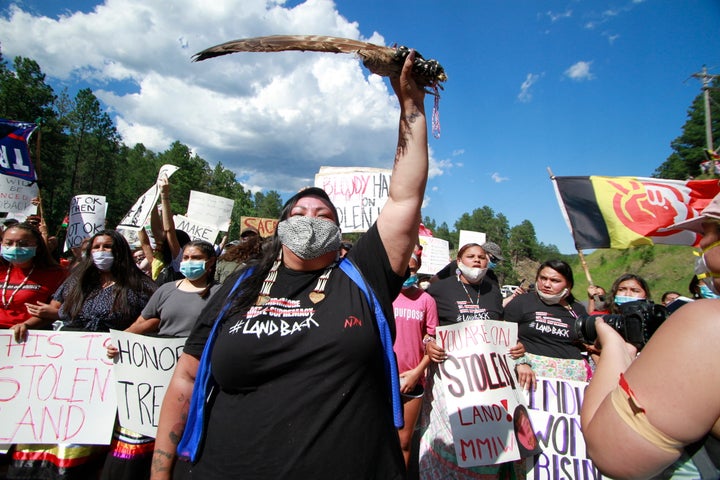 Indigenous rights protestors demonstrate in Keystone, South Dakota ahead of a visit by then-President Donald Trump. They were demanding that the U.S. government give back the Black Hills to the Lakota people.
VIA ASSOCIATED PRESS
Bears Ears National Monument in Utah is easily the Interior Department's most prominent example of a tribal co-stewardship. The Bureau of Land Management, the U.S. Forest Service and five tribes jointly oversee this monument and the federal lands within its 1.36 million-acre boundaries. The sign at the entrance features the logos of the U.S. governmental entities managing it ― alongside the insignias for each of the five tribes. Each of the tribes has written its own plan for how to manage the land, based on their more than 10,000 years of historical connections to the place that they all call by the same name, something akin to Bears Ears in each of their languages.
This partnership makes for exciting, if awkward, joint events with tribal leaders celebrating not being kicked off their land by the U.S. government for a change.
"Today, instead of being removed from a landscape to make way for a public park, we are being invited back to our ancestral homelands to help repair them and plan for a resilient future," Carleton Bowekaty, a former Bears Ears Commission co-chair and lieutenant governor of Zuni Pueblo, said at the 2022 co-management signing ceremony alongside government officials.
"What can be a better avenue of restorative justice than giving tribes the opportunity to participate in the management of lands their ancestors were removed from?" he asked.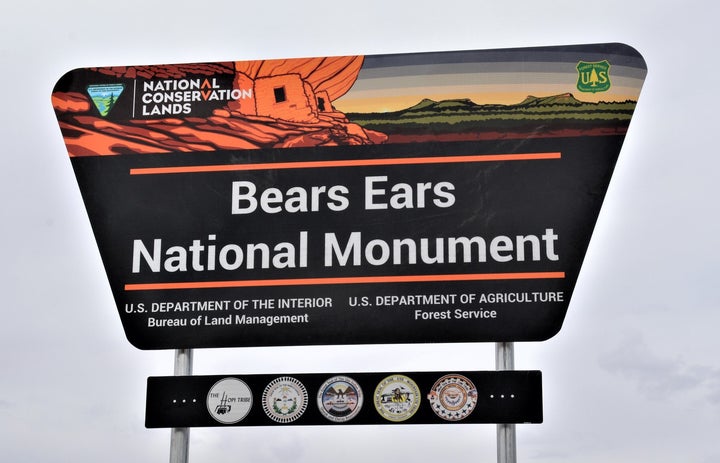 The sign greeting visitors at Bears Ears National Monument bears the logos of the U.S. governmental agencies that manage the land ― and the insignias of each of the five tribal partners.
BUREAU OF LAND MANAGEMENT
President Barack Obama established the Bears Ears monument right before he left office in December 2016, only to have President Donald Trump come in and dramatically scale it back in one of the largest reversals of U.S. land monument protections in history. Trump's move opened the door for oil and gas drilling on the previously protected land, which tribes consider sacred.
When Biden took office, he fully restored the monument's boundaries.
"This is a place that must be protected in perpetuity for every American and every child of the world," Haaland, who is the country's first-ever Native American cabinet secretary, said at the time. "Today's announcement, it's not just about national monuments. It's about this administration centering the voices of Indigenous people and affirming the shared stewardship of this landscape with tribal nations."
Of course, a co-stewardship agreement is one thing. Securing the federal money to effectively manage 1 million acres of land is another. Because these kinds of partnerships are relatively new, the Bureau of Land Management didn't have a system in place for transferring money to tribes for labor costs at Bears Ears National Monument. So government officials scrambled to redo their process so tribes could submit a formal request to the Bureau of Land Management for funding.
As the deadline was approaching, "very, very senior people" at the Bureau of Land Management were on the phone with "very, very senior people at the tribal nations," racing the clock to figure out everyone's target costs, said an Interior Department official who requested anonymity to speak freely about the chaos it took to pull off this agreement.
"We don't have a process. We don't have people. We don't have technical experts in the bureaus for this," said this official. "We don't have a playbook. We're trying to create the playbook."
"We don't have a playbook. We're trying to create the playbook."
– an Interior Department official
Haaland has been forging ahead with co-stewardships by using authorities the interior secretary has had all along, but that previous people in her position haven't used. Some tribes have told Interior Department officials they didn't even know these authorities existed.
It's also understandable why tribes would have a healthy degree of caution about making any agreements with the U.S. government, given their historical relationship.
The Interior Department in particular was "a huge, huge force in removing and attempting to sever tribes' connections to land," said Hillary Hoffmann, a law professor at Vermont Law School and a former co-director of the Bears Ears coalition.
But many tribes kept up their connections to their ancestral lands through storytelling, she said. In the case of Bears Ears, she said a tribal leader in the area shared with her that his uncle had never been to the monument but could describe a particular spot near it, in detail, because of the stories passed down in his family.
"These stories have been kept alive for generations, the significance and the ways ancestors used these places for medicine or food, subsistence, plant gathering, wood gathering have stayed with tribes, despite all this history, the attempted assimilation, the boarding schools policy…." said Hoffmann, trailing off as she listed horrific injustices tribes have faced.
"It's remarkable and profound," she added. "I'm not a member of any of these tribes. I'm not Indigenous. It's emotional for me, so I can't imagine how it feels for tribes."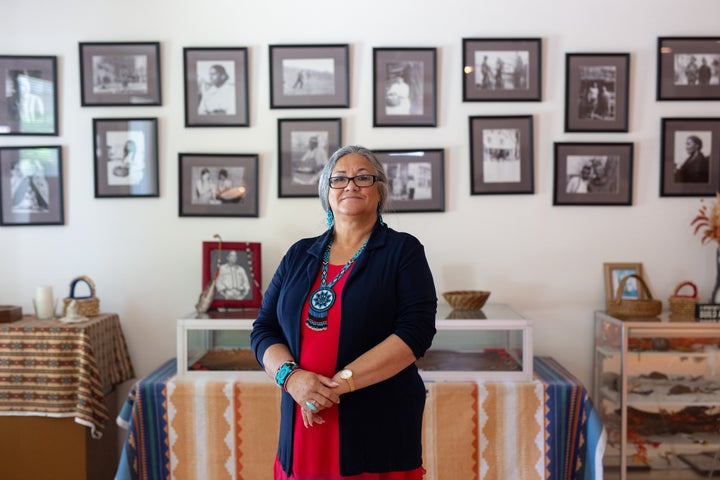 Rappahannock Tribe Chief Anne Richardson stands in front of a display of historic photos at the Rappahannock Tribal Center in Indian Neck, Virginia.
THE WASHINGTON POST VIA GETTY IMAGES
It's hard to say how the Biden administration's efforts on tribal co-stewardship will play out in the long term. Lasting policy change takes time and commitment. There's a lot of government bureaucracy involved in overseeing public lands. Presidents and their political appointees come and go.
But for the moment, Haaland has already opened up pathways for tribes to have a real voice in managing public lands in a way that hasn't been seen before.
"The potential for a real paradigm shift is being potentially realized," said Mills.
This movement toward co-stewardship is also happening amid a shift toward a broader policy of revitalization for tribes, whether it's in language, culture or economic development. Two years into office, Biden has invested billions in tribal infrastructure and water rights settlements. He's put record numbers of Indigenous people in his administration, the least of whom include Haaland and National Park Service director Charles Sams. He's also restarted the White House Tribal Nations Summit, which gives tribal leaders direct access to administration officials to talk about priority issues.
For Richardson, it feels like the country is in a defining moment for reconciling its past ― and in a way that benefits everyone.
"The government is a forever partner for us," said the tribal chief. "Because they've stood with us so that we can regain this land that was lost. They're standing with us ― for us to teach them our ways, for them to teach us the science ― of why we care for the land the way we do. To be able to share that and teach that to the world."
How do you put a price on sacred foods?

Me standing in my smokehouse showing off 20 sockeye. These are sea sockeye, so they are smaller. I almost always prefer bigger river fish. Photo: Jared Qwustenuxun Williams
How much does a traditional smoked salmon cost?
Well, last I heard, on the rez it goes for about $40 a side, so $80 for a full fish. But what's it really worth?
The Elders talk about how our food is sacred. This sacredness makes it hard to put a price on the death of sentient beings, or on the teachings from our ancestors. 
But we walk in these two worlds, and as a chef, I spend more time than I'd like putting a price on food. So with my feet in both kitchens I feel confident I can break down this food cost, while also recognizing the sacredness of traditional Indigenous foods.  
First, in this modern capitalist framework, there are basic startup costs. Things like building the smokehouse. My little smokehouse, about four square metres in size, cost about $1,000. To theoretically pay that off over five years is $200 a year. This smokehouse can smoke up to 20 to 30 fish at a time. So we can say the annual output is around 100 to 200 fish, and estimate $1.50 per fish in costs to the smokehouse. While we're here, let's add another $1.50 each for supplies like salt, soap, hot water and refrigeration. Then add another $1 for vacuum sealing and a final dollar for overheads like transport and keeping the lights on. Then we're at a base of $5 per fish just to keep the system functioning.
Now we need to get our hands on some salmon. The current mainstream market for salmon puts a whole wild sockeye at around 70 bucks, and sockeye is what most people want. But if you ask me, smoked chum is much better than smoked sockeye. Even then, go buy some chum eggs and see what they're worth. With the cost of fish, and the overhead, we're now looking at $75 per salmon.
Then there's wood — each batch needs special wood that's dried in a certain way. With experience I'd say you can get four good full smokes out of a single cord of wood. A cord of dried maple goes for $350+. So that'd make each smoke worth $87.50. At 20 salmon in a smoke, that's worth $4.38 per fish. With that, our smoked salmon is now up to $79.38. 
Eight full smoked sockeye pulled down from the rafters in my smokehouse after a five-day smoke
A mixture of ocean sockeye and river chinook smoked until dry in strips my Elders call lhiput
Now we get into labor and wages. While we are here, I hope we can all agree that a worthy wage for a skilled Indigenous cook would be at least $40 an hour, because a big part of smoking salmon is knowing how to cut the fish properly. Cleaning, cutting and prepping the salmon takes a tremendous amount of skill and shouldn't be rushed either. Personally, I can do 20 fish in about four hours, from start to finish. Sure, I could technically butterfly a fish in 70 seconds. But four hours includes a lot more than just fileting. It should be noted that it does include a regimented cleaning of the tools and workspace both before and afterwards. 
After being cut, the salmon will sit in a salt cure for 24 hours. Then, all the fish will have to be hung on cedar sticks or laid on clean racks in the smokehouse. Carving new cedar sticks, putting sticks in the fish, and putting the fish all on racks also takes time. Hanging 20 fish in a smokehouse requires 60 sticks. Then add to that the cleaning of all the racks, sticks, and smokehouse — which all take time when the main task is done. All said and done, this hanging and cleaning part takes another three hours.
During the smoking process, the main bulk of the work is lighting and monitoring the fire. When the smokehouse is burning, it should be checked at least every two hours and each check takes between 15 to 30 minutes. That adds up to about four hours per day of monitoring and — since this is a four-day process — that multiplies up to 16 hours total. Then, in the end we have another two hours to get everything vacuum sealed. That's 25 hours per batch of salmon for a cost of $50 per salmon. Add that to the $79 outlined above and we're now at $129 per fish.
Since we're already deep into capitalism here — commodifying a sacred and traditional food — let's be true to this same worldview and say that all food systems operate on profit margins. That considered, all the money I've indicated above would turn the wheels of our theoretical business but wouldn't pay a profit to any owners or investors. In reality they would demand a profit margin of five to 20 per cent. If we split the difference and put aside 10 per cent, that's an additional $12.90 per smoked fish. Bringing up our total to $142 per fish.
So with all things considered, in a modern free market world a traditional smoked salmon is worth almost double what it currently fetches. This is primarily because of the fact that wild-caught traditional Salish smoked salmon is considered to come from an unapproved source by the food premises regulation. As well as the fact that traditional smokehouses are not considered an approved production method by provincial environmental health standards. 
Basically — our food is devalued because it's illegal. It's sold primarily on the black market and cannot be served in restaurants or commercial kitchens. So we must enjoy it in secret. But I can hear the Elders and community members rejoicing because they know that if the western world could access our traditional foods and see their true value, that we'd never get our foods again. 
Our foods are our medicine and when we were able to subsist only on our Indigenous diets, our Elders lived to be well over a hundred years old.
A silhouette of me spearfishing on the Cowichan River in our traditional territory. Our tribe is one of the few remaining coastal tribes that still spear fish with a traditional two-pointed fishing spear. Photo: Jared Qwustenuxun Williams
So it's a balance. We need to be able to get traditional foods like smoked salmon into hospitals, schools, and detention centres. We need to be able to get our food to our people wherever they are. And we need to be able to support our producers adequately. All while ensuring that we only take what we need and we don't forget our place in the food system. Because if we aren't careful the cost of a smoked fish could be the remaining salmon stocks, and the Elders know this. This can be said with all our foods. Camas, moose, butter clams, soopolallie — all superfoods that contain vital nutrients. All things that are already in a precarious balance.
I guess this is why I mostly give smoked fish away to my community. Smoked fish costs me more than money, it is a connection to the land and the river which are struggling. Smoked fish reminds me of my childhood and the hundreds of fish we'd catch and my uncles would smoke. How the Elders would talk of so many fish you could walk across the river on the backs of fish and I would laugh because the thought was so unreal. But now my children laugh at me when I say I used to catch hundreds: "sure you did dad." 
Smoked fish is a direct line to my ancestors and I can see their story played out in a series of seasons and feasts. Smoked fish shows me that our people once had a great abundance of food and food security, while so many on my own reserve now struggle to keep enough food in their cupboards. 
To me the cost of a smoked fish is nothing and it's everything. It's free, I give it away. It costs me time and effort and money for a smokehouse and wood. The value of the smoked fish isn't in its sale. It's in the teachings I can share with my son while he's fishing. It's in the way the Elders' eyes light up when you give them a fish. It's in the hope I get every time the salmon returns.
But to the Western market it's worth $142 bucks a fish, or $71 a side. So remember that when one of my uncles sells you a side for $40 — you're lucky he's not charging more.
The post How do you put a price on sacred foods? appeared first on IndigiNews.
Indigenous advocates in 'Vancouver' say they would help search landfill for MMIW

An attendee at a vigil in Grandview Park on Sunday holds up a sign with the names of four women taken by an alleged serial killer in Winnipeg. Photo by Cara McKenna
Content warning: This story contains details about Canada's epidemic of missing and murdered Indigenous women and girls. Please be gentle with your spirit and read with care.
Indigenous advocates in "Vancouver" say they are ready and willing to travel to "Winnipeg" to help search a landfill that's believed to contain the bodies of two women taken by an alleged serial killer.
During a vigil in Grandview Park on Sunday, dozens of people came together to mourn the deaths of Rebecca Contois, Morgan Harris, Marcedes Myran and the unidentified Mashkode Bizhiki'ikwe (Buffalo Woman). 
At the event, the relations of missing and murdered Indigenous women and girls (MMIWG) spoke about the massive failures of police when dealing with their lost loved ones — with some offering to step in to do the jobs that officers won't.
On the Downtown Eastside of "Vancouver," Indigenous groups are already involved in enacting searches for missing women — efforts which have been led by the groups Butterflies in Spirit and the Crazy Indians Brotherhood. 
'We've got to figure out ways to help one another'
Lorelei Williams, the founder of the group Butterflies in Spirit and longtime advocate for MMIWG, clutches a cedar bough as she speaks. Photo by Cara McKenna
Lorelei Williams — who founded Butterflies in Spirit to commemorate the victims of serial killer Robert Pickton and other MMIWG — said in general police aren't doing their jobs correctly, which is why her group scours the Downtown Eastside searching for missing women.
Williams said she personally is willing to go to the Prairie Green landfill north of Winnipeg, where the bodies of Harris and Myran are believed to be located, to search. 
The Winnipeg Police Service has been under fire after stating it would not search the landfill for various reasons including the amount of time that's already passed, the conditions at the facility and officer safety.
"When (police) make up excuses as to why they aren't doing their jobs properly, this kills us," Williams said. 
"This lets predators know that they can target us and get away with it. … We have our Indigenous communities across Canada willing to do this search on their own without all the resources that they have."
Kukpi7 Judy Wilson of the Union of B.C. Indian Chiefs said even though there was a national inquiry into MMIWG, the deaths of Indigenous women have continued without reprieve.
"The (police) and the government of Canada are not accountable nor are they going to do anything," she said. 
"When this was happening here with Pickton farms and all of the atrocities that happened here, we had collective support across the nation and across Turtle Island and that's what we have to do for the Winnipeg serial murders."
Wilson said she wants to see a united voice of support and solidarity for the "Winnipeg" families coming from the West Coast.
"If a B.C. delegation gets put together to help with the landfill search, I think that would be important," she said.
"We'd send the best we can from B.C. to help in Winnipeg. … We've got to wake up and stop this from happening, we've got to figure out ways to help one another."
A vigil was held in Vancouver's Grandview Park on Sunday, where guests lit candles and burned medicines — remembering the four women lost in Winnipeg. Photo by Cara McKenna
The Winnipeg Police Service has charged Jeremy Skibicki with first degree murder for the deaths of the four women, believed to have been killed between March and May.
Meanwhile, in B.C., families are still reeling after the bodies of Indigenous women Tatyanna Harrison, Noelle O'Soup, Chelsea Poorman and Kwemcxenalqs Manuel-Gottfriedson were all found in the "Vancouver" area in the spring and summer of this year. 
At the vigil, Natasha Harrison shared that when her daughter Tatyanna went missing earlier this year, she had to scour the streets on her own — finding support from the Indigenous community including Butterflies in Spirit but not from the Vancouver Police Department (VPD).
"Wherever you are, shame on you," she said to the VPD, which apparently had at least one representative present in the crowd. 
"I begged you to search the Vancouver streets and you ignored my pleas so I went and searched myself which is not a unique case, this happens time and time again."
'Lied to, ignored and laughed at'
Natasha Harrison shamed police for her experiences while searching for her daughter Tatyanna earlier this year. Photo by Cara McKenna
Olivia Louie, a cousin of Noelle O'Soup, spoke about how the body of her relative was found in an apartment this past summer, after going missing while she was in the "care" of the provincial Ministry of Children and Family Development.
"She was taken from her family, her parents, her siblings and her community," Louie said between tears, while Williams stood behind her holding a cedar bough.
"For weeks after her disappearance, Indigenous community members and residents of the building had approached the Vancouver Police Department with complaints and sightings of Ellie in that building. All of these complaints went ignored."
Louie said that the entire policing institution "is a lie" and officers only decide who to listen to based on race and economic status. 
"They exist to protect and serve, but they do not protect or serve us," she said. 
"During the search for our missing and murdered relative, my family has experienced being lied to, ignored and laughed at by the Vancouver Police Department. These aren't unique experiences."
The family of Kwemcxenalqs has also spoken out about their negative experiences with the VPD during their search for their lost loved one, and released a list of recommendations.
Louie called for international support given that colonial governments have not sufficiently addressed the MMIWG crisis — adding that, despite attempts at removal, Indigenous Peoples are still here and practicing cultures that "Canada" tried to erase.
"This genocide is not a past, historic event. It is happening right now, and it is intentional," she said.
Natasha Harrison said she is sending prayers to the families who are mourning lost loved ones, and stands with the community impacted by the alleged murders in "Winnipeg."
"I hope I live to see … this system change," she said.
"I am saddened to hear the silence throughout Canada. I want to see 10,000 more people standing here, screaming at the injustice."
People light candles in Vancouver on Sunday in honour of the MMIW in Winnipeg: Rebecca Contois, Morgan Harris, Marcedes Myran and the unidentified Mashkode Bizhiki'ikwe (Buffalo Woman). Photo by Cara McKenna
The post Indigenous advocates in 'Vancouver' say they would help search landfill for MMIW appeared first on IndigiNews.